Products from Halloren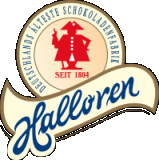 The Halloren Chocolate Factory (German: Halloren Schokoladenfabrik) is the oldest German chocolate factory. The first mention of the firm is recorded in 1804. The firm was founded in Halle, Saxony-Anhalt where its headquarters are today.
The most famous product is the "Halloren-Kugeln", or Halloren globes, which receive their name from the early salt workers, whose buttons the chocolates resemble. The brand was especially popular in the former German Democratic Republic and remained popular after reunification.
No results were found for the filter!