Products from Hitschler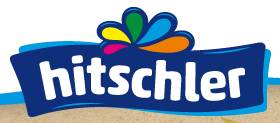 At the end of the 1920s, Ferdinand Hitschler, the father of Walter Hitschler, started trading with tobacco and cachous – small, yummy liquorice sweets which are a speciality from France originally. During the mid-1930s he founded the Cologne-based trading company "Hitschler's Cachou".
What hardly anyone knows: Walter Hitschlers childhood home in Ölbergstrasse in Cologne was our company seat until our relocation to Aachener Strasse in 2014.
hitschler International is an independent, medium-sized, family-run company based in Cologne, Germany, with production facilities both in Germany and abroad. hitschler sell their products in all sales channels both in Germany and abroad. The company approach is defined by fair competition, as well as dependable and long-term relationships with clients and suppliers.
hitschler's range, with its focus on confectionery, offers a wide portfolio of different products, including fruit chews, glazed chews, fruit-flavoured sweets, sugar-free chewing gum, bubblegum, sherbet discs and foam sweets. This variety and the expertise of the production staff and partners enable them to react flexibly to the demands of the market and customers.