Products from Kuchenmeister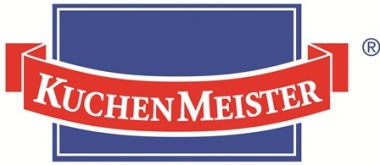 The KuchenMeister GmbH is a German food manufacturer based in Soest. The wholesale bakery with approximately 1.000 employees is the market leader in Germany for finished cakes and world leader in tree cake and stollen.
The company was founded in 1884 as a classic bakery by Julius Trockel in Soest. Wilhelm Trockel led the family business continues until losses in World War II. Only William's son, Günter, survived this period and began loaves for sale by bicycle in 1954 as a young master baker. The business developed so well that he soon with a motor tricycle increased his radius and thus his customer base and his product range with sand cake and milk Eiserkuchen (baked in an iron waffles) added.
In 2009 Kuchenmeister celebrated its 125th anniversary in the fourth generationof family business.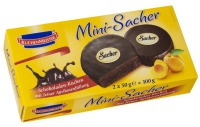 Kuchenmeister Mini Sacher - Filled Chocolate...
A short pleasure trip in the Viennese cuisine. The "Mini-Sacher Torte" is the small portion of the most famous cake in the world, and therefore a real piece of Viennese confectioner tradition. She has just the right size for in between...
Content
100 gram
($43.90 * / 1000 gram)
Kuchenmeister Koala - Cocoa Biscuit Sticks 75g
The delicious little biscuits in Koala form outside have a crispy shell and are filled with a delicate cocoa cream. In each pack a surprise! Store cool and dry . Net.Wt. 75g (2.6oz) Shipping Wt. 110g
Content
75 gram
($35.87 * / 1000 gram)
Kuchenmeister Koala - Milk Chocolate Biscuit...
The delicious little biscuits in Koala form outside have a crispy shell and are filled with a delicate cocoa cream. In each pack a surprise! Store cool and dry . Net.Wt. 75g (2.6oz) Shipping Wt. 110g
Content
75 gram
($35.87 * / 1000 gram)