Products from Pfanni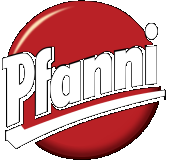 The Pfanni GmbH & Co. OHG is a German food manufacturer based in Stavenhagen, which specializes in the manufacturing of kitchen ready potato products. It is a subsidiary of the Unilever Germany Group since 1993.
The company was founded on September 2, 1949 by Werner Eckart in Munich. Whose father, John Eckart, had been producing preserves since 1868.
In the year 1964, Pfanni had a turnover of more that DM50 million, which by 1965 increased to DM80 million. Pfanni employed by that time 1,300 workers and processed 150,000 tonnes of potatoes each year.