Products from Ricola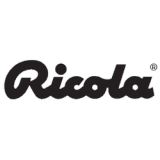 Ricola Ltd./Ricola AG is a manufacturer of cough drops and breath mints in Switzerland. The company focuses primarily on using herbal ingredients. The head office of Ricola is located in Laufen, Basel-Country.

Ricola began in 1930 when Emil Wilhelm Richterich established Confiseriefabrik Richterich & Co. Laufen after the purchase of a small bakery in Laufen, just outside Basel. Under Richterich, the bakery specialized in confectionery such as "Fünfermocken," a sweet which was similar to caramel. In 1940 Richterich created Ricola's Swiss Herbal Sweet incorporating a blend of 13 herbs. In the 1950s the sweet became appreciated for its ability to be dissolved in boiling water, creating an aromatic herbal tea or tisane, which inspired Richterich to create a Ricola Herbal Tea a few years later.