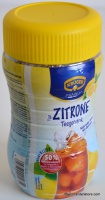 Krüger Instant Tea Drink - Lemon 400g
Less sugar and more fertility - that's what the fine teas of "Krüger" stands for. Experience the refreshing taste of "Krüger Lemon Instant Tea Drink" and save at the same time, with the economic 8 liters advantage pack. Preparation: 4-5...
Content
400 gram
($12.48 * / 1000 gram)
Ovomaltine Ovaltine - Malt Chocolate Drink Mix...
Imported directly from Switzerland. The original Ovomaltine malt drink mix. Enjoy this unique, naturally less sweet OVOMALTINE mix alone or add your favorite sugar/sweetener to taste. With natural ingredients, fortified with 13 vitamins,...
Content
500 gram
($19.98 * / 1000 gram)