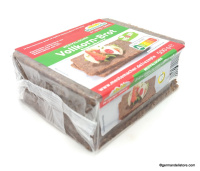 Mestemacher Westphalian Whole Meal Rye Bread -...
This delicious dark whole meal rye bread has a rich & sweet taste, achieved through gentle baking for up to 20 hours. Try it hearty with cheese or ham. Store cool and dry after opening! Net.Wt. 500g (17.6oz) Shipping Wt. 600g
Content
500 gram
($6.78 * / 1000 gram)
Mestemacher Westphalian Pumpernickel - Dark...
From Westphalia a classic German Rye Bread, baked to a traditional recipe since 1871. Ideal for breakfast or as a little snack. Store cool and dry after opening! Net.Wt. 500g (17.6oz) Shipping Wt. 550g
Content
500 gram
($6.78 * / 1000 gram)