Top seller
Trolli Glotzer - Sour Filled Foam Sugar Gums (75g)
Content
0.075 Kilogram
($39.87 * / 1 Kilogram)
Friedel Gelee Jelly - Jelly Bunnies & Eggs (150g)
Content
0.15 Kilogram
($13.27 * / 1 Kilogram)
No results were found for the filter!
Friedel Gelee Jelly - Jelly Bunnies & Eggs (150g)
The Easter basket will be fruity and colorful. This "Friedel Jelly Bunnies & Eggs" contains 10 colorful jelly figures in the form of Easter eggs and Easter bunnies. They are also sprinkled with sugar. Suitable for vegan nutrition. Store...
Content
0.15 Kilogram
($13.27 * / 1 Kilogram)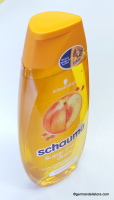 Schwarzkopf Schauma - Superfruit & Shine...
The "Schauma Superfruit & Shine" revitalizing shampoo with superfruit is perfect for normal hair. It strengthens your hair and gives it shine and a pleasant, exotic scent. The formula with superfruit extract for revitalized hair full of...
Content
0.4 Liter
($7.48 * / 1 Liter)
Trolli Glotzer - Sour Filled Foam Sugar Gums (75g)
The "Trolli Glotzer" are the first 3D fruit gums in the world! These goggle eyes will provide a shock at every party and are an essential item in your bag of tricks. If anyone catches you in the act, don't get caught: just swallow the...
Content
0.075 Kilogram
($39.87 * / 1 Kilogram)