Products from DeBeukelaer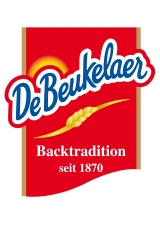 Since 1870, DeBeukelaer has offered pleasure through its unique style of baking, following old craftsmen's traditions and of consistent high quality. Edouard de Beukelaer discovered especially tasty and nourishing biscuits in England, which were originally produced for seafarers. He then had a vision: and two biscuits filled with smooth chocolate cream became the legendary sandwich biscuit. The biscuits produced according to Edouard de Beukelaer's successful recipes consist exclusively of the best, carefully selected natural ingredients. These high quality standards ensure one-of-a-kind moments of pleasure and a complete taste experience.
Our quality guarantee promises excellent products because the DeBeukelaer product range contains only the best ingredients, such as best butter, wheat, milk and chocolate. The nutritional information on the back of the pack proves that all our biscuits are produced without preserving agents, artificial aromas, hardened fats or artificial colours.
Cookies Bakery, ChocOlé, KEX and Cereola are DeBeukelaer's renowned and successful biscuit varieties.