This product is currently not available.
Content:
0.1 Kilogram ($48.90 * / 1 Kilogram)
Prices incl. VAT plus shipping costs
Holiday announcement
The Christmas season is about to start. But before that, we're going to give our team a little break. But no worries, you can continue ordering as usual. All orders placed on or after Sep 17th will be shipped starting Sep 26th.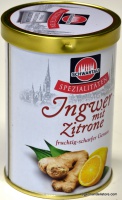 Schwartau Ingwer mit Zitrone - Ginger Lemon...
Content
0.35 Kilogram
($16.83 * / 1 Kilogram)