Products from Jacobs

Jacobs is a brand of coffee that traces its beginnings to 1895 in Germany by Iohann Jacobs and is today marketed in Europe by Mondelēz International.
Under the direction of Klaus Johann Jacobs, who took over the company in 1970, Jacobs expanded into other fields. It merged with the Swiss chocolate company Interfood in 1982 to form Jacobs Suchard, and bought the American Brach's Candy in 1987, among other purchases. Jacobs Suchard, with the exception of Brach's and Interfood, was sold to Kraft Foods in 1990.
No results were found for the filter!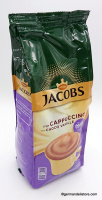 Jacobs Cappuccino Choco Vanilla Milka - Instant...
The "Jacobs Milka Cappuccino Choco Vanilla" is a unique composition of instant coffee, the typical "Milka" chocolate note and a fine vanilla taste and ensures an absolute delight. Try this delicious coffee specialty alone or with friends...
Content
0.5 Kilogram
($15.98 * / 1 Kilogram)
Jacobs Kroenung - Ground Coffee 500g
"Jacobs Kroenung" classical. For more than 40 years, "Jacobs Kroenung" presented as one of the most popular coffees of the Germans and the enthusiastic connoisseur by the inimitable gourmet flavor. We at "Jacobs Kroenung" devote the most...
Content
0.5 Kilogram
($25.98 * / 1 Kilogram)
Jacobs Kroenung Balance - Ground Coffee (50%...
With the passion for coffee, Jacobs has compiled this special blend of caffeinated and decaffeinated premium coffee. The harmonious flavoring first unfolds by the roasting, for which Jacobs stands with years of experience. Made from 1/2...
Content
0.5 Kilogram
($25.98 * / 1 Kilogram)
Jacobs Kroenung Entcoffeiniert - Decaffeinated...
The secret of the aroma is that we include the precious aroma gently into the bean - with our Jacobs aroma roasting and subsequent cooling of the beans. For our coffee decaffeination solves a gentle process using natural carbon dioxide...
Content
0.5 Kilogram
($25.98 * / 1 Kilogram)