Content:
0.125 Kilogram ($31.92 * / 1 Kilogram)
Prices incl. VAT plus shipping costs
Holiday announcement
What a busy Easter season! We're giving our team a vacation from Apr 5th - Apr 12th. But no worries, you can continue ordering as usual. All orders placed on or after Apr 3rd will be shipped starting Apr 13th.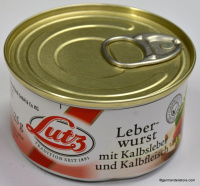 Lutz Kalbsleberwurst - Liver Sausage With Veal...
Content
0.125 Kilogram
($31.92 * / 1 Kilogram)