Content:
0.37 Kilogram ($5.11 * / 1 Kilogram)
Prices incl. VAT plus shipping costs
Christmas orders
Dear customers (especially outside Europe) From now on it is no longer guaranteed that your Christmas order will arrive in time before Christmas Eve, even if you choose Premium Shipping Service. Thank you for your patience and trust in us.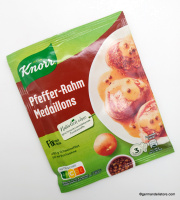 Knorr Fix for Pork Fillets in Creamy Pepper Sauce
Content
0.035 Kilogram
($54.00 * / 1 Kilogram)