Products from Händlmaier's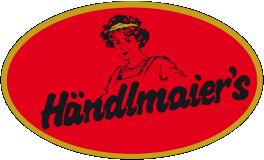 Händlmaier's is a brand of sweet Bavarian mustard manufactured by Luise Händlmaier Senffabrikation GmbH & Co. KG, based in Regensburg, Germany.
History
In 1910, master butcher Karl and his wife Johanna Händlmaier founded a butcher shop on Gesandtenstraße in Regensburg. In 1914, Johanna Händlmaier created a recipe for a sweet Bavarian mustard, which today is principally consumed with Weißwurst and Leberkäse.
In 1945, after the end of the Second World War, Karl Händlmaier's son Joseph took over the butcher shop and ran it together with is wife. After the death of Joseph in 1955, his widow Luise ran the butcher shop until 1964, when, at the age of 54, she sold all six locations to a local sausage producer to concentrate exclusively on the production and sale of the sweet mustard.