Products from Lambertz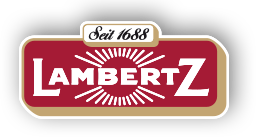 The Aachener Printen- und Schokoladenfabrik Henry Lambertz GmbH & Co. KG is one of the leading German manufacturers for pastry goods and the world market leader in autumn and Christmas baking.
Her name goes back to the baker and confectioner Henry Lambertz, who led the company to the court supplier in the middle of the 19th century through his new creations.
The company's extensive range includes chocolate products, Florentine, pastry blends, pastry baked goods, filled waffle products, pastries, chocolates and marzipan as well as nougat products. In addition there are seasonal items, which account for about half of the total production, such as Aachener Printen, Christstollen, gingerbread products, dominoes, cinnamon stars, peppermint and speculum.