Products from Teekanne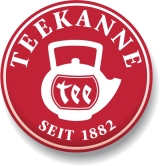 Learn more about TEEKANNE, the tea purveyor that is bringing you the finest tea experiences since 1882.
Teekanne GmbH & Co. KG, Düsseldorf, Germany combines more than 125 years of tea experience with the ability to continously develop the category with innovative product varieties and taste experiences. Teekanne is leading the German tea market (value, source: ACNielsen Scantrack), the world's biggest fruit and herbal tea market. Teekanne engineers developed the double chamber tea bag which is used by millions of consumers all over the world.
Today, the Teekanne Group with 1,500 employees is represented with production facilities and/or sales organizations in seven countries around the world. Through our international distribution partners we are selling our teas to more than 50 countries. TEEKANNE, this is TEA MAKING SINCE 1882, from black tea to green and white tea, from herbal and fruit tea to rooibos tea.