Products from Dr.Oetker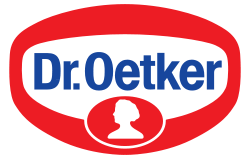 Dr. Oetker – a family business with tradition.
Founded in Bielefeld in 1891, the Dr. Oetker family business ranks among the leading branded goods companies in the German food industry. The Dr. Oetker brand is known to virtually every consumer. In numerous ranges encompassing, among other things, baking goods, baking mixes, dessert powders, ready desserts, muesli products, frozen pizzas and snacks, Dr. Oetker is represented by some 400 different products in Germany. It is market leader in almost all its product lines.